Accounting Software UK Rating
User Ratings
---
KashFlow Review – Introduction
KashFlow has revolutionised the Accounting Software market in the UK. The original software was written by Duane Jackson, a software developer, for his own personal use after he struggled with the commercial software available to business owners at the time. Since 2005, the software has been continuously improved based on user feedback and the end result is extremely impressive. KashFlow were the first to bring in the recurring payment plan to access the software and this has been so successful that it has now become industry standard practice.
KashFlow is cloud accounting software, which means that your accounts can be accessed from any internet connected device, which not only frees you from having to be the eternal steward of your accounting files, but also allows your accountant to access your accounts from any location and completely eliminates the headaches resulting from file transfers between you and your accountant. KashFlow offers free and fast UK-based support to all its customers, which in this day and age is a real bonus.
I have personally used KashFlow for years as my own small business accounting software. I am therefore very familiar with it and I have to say that I am a very satisfied customer.  Here is what some of KashFlow's other users say about the software: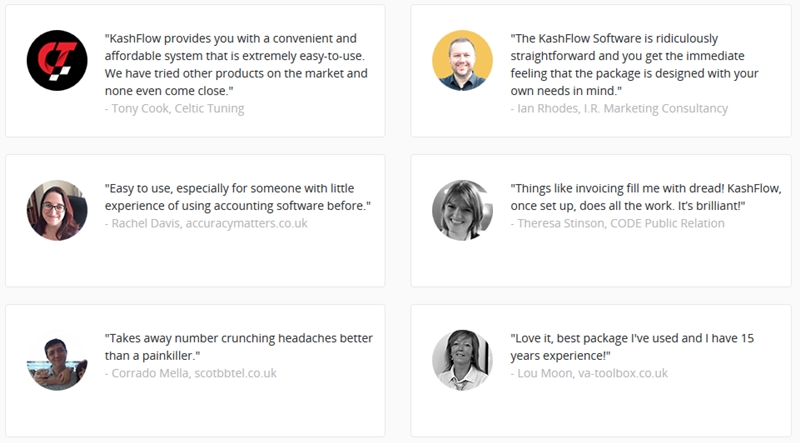 ---
KashFlow Review – Ease of Use
This really is where KashFlow stands out from its competition. From the beginning, KashFow has been designed with the small business owner in mind. Accounting jargon is not used anywhere within the software and is is so intuitive that most tasks really are self explanatory. More complicated tasks can also be achieved easily thanks to KashFlow's extensive, user friendly Knowledge Base, which provides step-by-step guidance on how to record the more complicated transactions. KashFlow's automated bank feeds service, along with many other automation options (Such as recurring invoices / recurring payments etc. where the software can automatically generate invoices / expenses on a recurring basis as specified by you) can mean you may only have to spend literally minutes per month to keep your accounts up-to-date.
KashFlow couldn't be easier to use. You will find it to be intuitive from the offset and in no time at all you will be a confident user of the software. KashFlow gets a massive thumbs up for it's ease of use.
---
KashFlow Review – Functionality and Features
KashFlow integrates not only with HMRC (VAT returns and EC Sales lists can be submitted directly to HMRC from within the software) but also with over 85 other organisations such as PayPay, Mailchimp, GoCardless etc. In this respect they are currently the market leaders and these integrations can do a lot to help small businesses punch above their weight and increase sales. The basic features that you want from an accounting software provider have been tweaked to perfection over the years. Invoices are quick to produce, fully customisable, look very professional and can be emailed to your customer from within KashFlow (along with a customisable email template, if so desired) in a matter of seconds. Quotes are similarly professional and easy to produce and can be 'turned into' an invoice extremely easily when the customer confirms their order.
Your Payroll can also be run through KashFlow, with RTI submissions being submitted to HMRC automatically each month on the date you specify – lightening your (Or your accountant's) workload and ensuring that you stay RTI compliant. Of course, the needs of each business vary but KashFlow are very good at listening to their customers and modifying the software to suit their various needs. As a result KashFlow offers more than enough features for the vast majority of business users.
---
KashFlow Review – Value for Money
Because of Kashflow's the software is so simple to use, bookkeeping takes no time at all and many business owners will save so much time that the cost of the software will repay itself many times over. There are three different packages available:
Starter: £8 per month
Business: £16.50 per month
Business + Payroll: £22.50 per month
You can have a fully functioning 14 day trial without entering any credit card details so you can try out KashFlow and be sure that it is the best solution for your needs. With no risk involved this is a great strategy for both KashFlow and their potential customers.
N.B. If you sign up to Kashflow via our website you get a special discounted rate. This will apply for 6 months if you choose a monthly subscription, or a full year  if you sign up to an annual plan.
---
KashFlow Review – Customer Support

KashFlow claims to pride itself on its customer support. It has a Knowledge Base which is very useful and does solve the majority of problems that may arise for the average user. There is a search box where you can type the subject of your question and the vast majority of the time the answer to the question you need answering will appear in a drop-down list. You click on the drop down list and you are taken to a page where you will find a solution to the problem, often with step-by-step instructions if the question relates to using the software.
This is actually a very useful resource because if you can solve problem on your own, you can save yourself time and energy in not having to contact the support team.
If your question is not included in the Kashflow Knowledge Base, you can get customer support by writing the support team an email (KashFlow say they respond to detailed support requests submitted via email within the hour.) or by chatting with them via their live chat facility.
The above support is all UK based and free. There is no phone number for paying customers to call the KashFlow Support Team, which is a shame as this really would have been the icing on the cake in terms of the level of Customer Support provided.
That said, KashFlow is so easy to use that the chances of the majority of business owners needing to contact the support team are slim.
---
KashFlow Review – Summary
KashFlow is an excellent choice for business owners and is a real pleasure to use. If you want to spend as little time as possible doing your accounting, but at the same time want to give your customers a first class impression, KashFlow is the perfect choice.
I have personally used this software for years and I have always been an extremely satisfied customer. Their UK-based customer support is extremely good (phone support is not available but their email support is excellent) and the team are always finding new ways to add extra functionality to satisfy all of their customers.
I highly recommend Kashflow to any small business owner. (Please visit KashFlow's website via the link below, this will automatically apply a discount code and give you a six month discounted rate for your subscription!)

KashFlow User Reviews
If you have experience in using KashFlow please review it below. Your feedback is very important and we really appreciate you taking a minute of your time to do this. Your review will also be a great help to other people evaluating which accounting software to choose.